Saint Laurent Leopard Condom Retail Marketing Cardboard display stands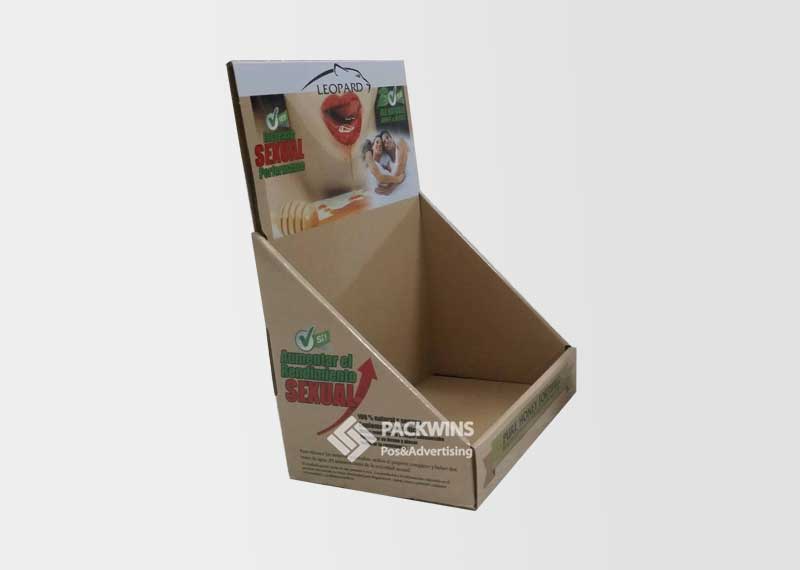 Saint Laurent Leopard Condom Retail Marketing Cardboard display stands plays an important role in today's retail marketing. Due to the scope and variety of possibilities, almost any items can benefit from a thoughtfully designed, smartly placed custom display stand whether it be floor display, counter display or pallet displays.
There are kinds of situations that cardboard display could apply in retail market. Take for example, In an toy shop, display stands can highlight plush toys and accessories with typography that educates the consumer. At a tourist's center, a display stand can showcase the highlights of a spot or city. In a grocery store, display stands can sit in the aisle, tempting the customer buying spaghetti with jars of pasta toppings, or holiday shoppers with the ingredients to make stuffing or pumpkin pie – with recipes. Saint Laurent Leopard displayed a "Luxury Condom" display to spotlight its condom, a promotion created by Packwins. A counter display assembled from single piece of cardboard, printed with the Leopard logo.
Here are some idea starters from some of our past projects…
Point of Purchase corrugated cardboard display stands can be in various shape tall or short and also can be square, circular or rectangular;Their design and color attract your eye; golf balls at the sporting goods store or a special 2-for-1 promotion in a big-box merchandiser.
In this merchandising category especially, corrugated cardboard is an exceptional material. It is lightweight, sturdy and can be printed in custom colors and die-cut to custom shapes. If a large Cardboard display stands plays an important role in today's retail marketing is desired, it can be fashioned of multiple pieces that assemble on spot.
Packwins Display Advantage
 Packwins Display has been in business since 2006 and has worked with every kind of partner, from small agencies to Fortune 500 companies. We partner with you from concept to execution, emphasizing your branding and cost parameters, and providing you with a full-color prototype before production. When we do our work right, everything lines up to help you sell your product.
Our work can be seen throughout the retail marketplace, encompassing a wide variety of selling occasions and venues. We are experi
enced and extremely qualified to take your concept to its highest possible execution. We provide custom concept, design, printing and cutting work that focus on structural integrity and aesthetic appeal.
With no minimum order quantity and even no set-up costs for structural design, printing plates and die cutting mould, you are guaranteed to preview your expected display before sampling and mass production. Estimated cost can be shared with the most current display styles before we doing tailored design for your products. And exact quotes can be informed upon getting your product information. Price quotes are fair and competitive.
Customized Size &Printing
Whether it's small footprint, over the counter, hangsell or occupy a large premise like full pallets, all packaging and displays we provide are fully customizable with your logo and artwork.
Production & quality are done with the highest industry standards. our facilities are fully equipped with offset printing and die cutting presses.
Our team of 5 star product specialists are dedicated to help with cardboard displays from design to production.We pride ourselves on superlative customer service and relentless attention to detail.
POPAI is an international trade association for the marketing at retail industry Packwins Display is selected by POPAI for the Connected Retail Initiatives.
Did We Catch Your Attention?
Is a cardboard counter display stand the right marketing tool for your product? Let's us show you how well it can be executed. Click HERE for an information request form.