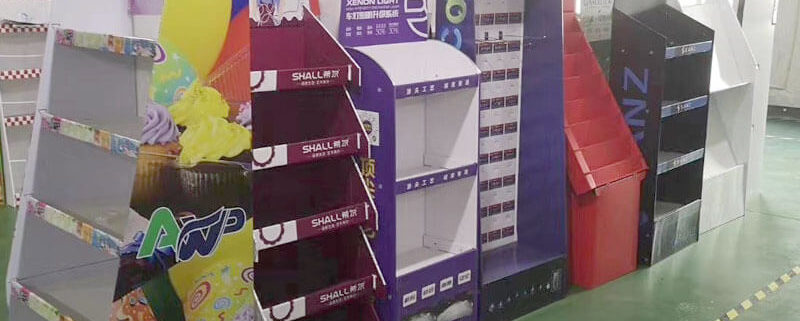 In today's brick and mortar retail business, you have to stand out from the crowd to get the expected attention from target consumers. Simply scatter your items on the shelves are not a wise way in retail sales. It is highly recommed to customize a point of purchase display stand to drive impulse sales at retail floor.
In this toturial we are going to talk about the 5 most popular and high ROI cardboard display types for you to make an easy reference and in the end drive up your sales by at least 30% than your competitors.
Pallet Display
A pallet display is a point of sale stand that placed on a wooden pallet flat packed or consolidate packed with merchandisers into stores and usually has specific overall dimensions set by different big club stores.
Powerwing Sidekcik Display
Powerwing Sidekcik Displays are wing sidekick stand that often hang in a wireframe at the high traffic area inaisle or at the end of aisle. Depending on the products package style, there can be shelves or compartments or hooks to host products. At the back of the sidekick display there should be at least 2 "S" shaped hooks to connect the display to the wireframe.
Free Standing Display Units
Freestanding display units are also short for FSDUs. Seen by its name FSDUs are off location displays compared to items nested inline of shelves. They are free to be placed anywhere at the retail stores to drive impulse sales.
Counter Display Units
Counter display units also short for CDUs or PDQs. Small in size but versatile in style.
Simple tray
Tray with shelves
Tray with hooks
Rotating with hooks
Dumpbin Displays
Dumpbins are very flexible to host any products be it regular shaped package or bagged items irregular packages, dumpbins can hold all.
https://thecorrpro.com/wp-content/uploads/2020/06/Packwins-Display-POS-Cardboard-Displays.jpg
570
800
packwinsdisplay
https://thecorrpro.com/wp-content/uploads/2021/04/packwins-logo_.png
packwinsdisplay
2022-11-18 04:00:32
2022-11-18 04:00:33
5 Most Popular Cardboard Display Types in Club Stores