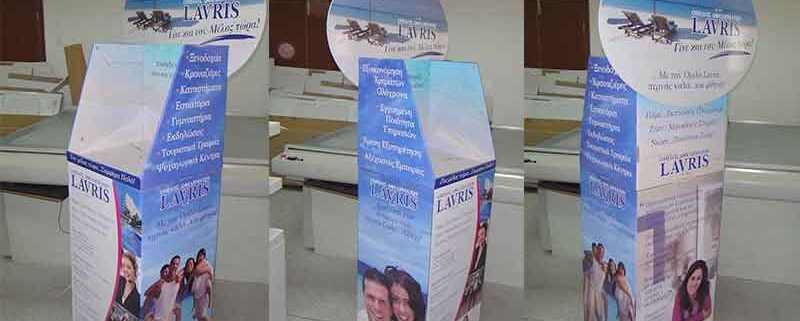 #1 Cardworks Ltd
Cardworks has been in business for over 40 years, producing packaging, point-of-sale materials, and promotional items. During that time, we've gained a lot of knowledge with various print technologies and production techniques, allowing us to complete assignments in the most effective manner. We have kept up with these changes as digital technology is now a significant portion of our production processes. We combine the newest technology equipment with traditional methods to produce high quality, attractive POS and packaging material at very competitive prices. We produce work for many large organizations as well as print sourcing agencies and printers.
Our Products:
Cardboard leaflet holders
Floor Standing Displays
Counter Top Displays
#2 BRIDGESHIRE PACKAGING & DISPLAY
Bridgeshire is a family-run business that can complete even the most difficult in-store brand POS projects. We are technologically sophisticated and have access to the best design and manufacturing resources, from concept to fulfillment and delivery.
We are accustomed to following the strictest brand guidelines when working with some of the most prestigious high street names in the world to create effective and cutting-edge three dimensional displays.
We specialize in three-dimensional cardboard point-of-purchase displays (POS/POP), CDUs, FSDUs, pallet displays, and corrugated packaging. With a variety of print options, including large format screen, flexographic, digital, and lithographic print, we can guarantee excellent graphic reproduction and the flexibility to meet both high volume and shorter run requirements.
Our Products:
FSDU
PALLET DISPLAYS
CDU'S
BESPOKE PACKAGING
#3 WH Skinner
WH Skinner create environmentally friendly > Cardboard boxes and packaging, > Point of sale displays made of cardboard, > and large-scale cardboard engineering projects like exhibition stands and event displays.
We furthermore provide design and production services to other businesses in the sector.
We can transform your concept or ideas into a reality that exceeds your expectations thanks to our winning combination of industry-leading software, a competent design department, and a skilled manufacturing team. From your initial inquiry through delivery and beyond, our helpful, committed sales advisors will help you with every step of the process.
#4 Prosign Print & Display
Prosign Print and Display is a dynamic, forward-thinking company that specializes in visual communication. It has a strong background in printing and offers a wide range of services, including design, printing, point-of-sale, packaging, exhibition, 3D print bureau, and signage services, including installation, throughout the entire UK and Europe.
With the most modern technology and a prime location just two miles from Junction 27 of the M1, our plant in Nottingham is the ideal location to serve the entire nation.
Our organization is currently striving toward ISO9001 and ISO14001 certifications, and our amiable, trustworthy crew has all received training that meets the highest requirements.
Our Products:
Counter Top Displays
Cardboard Counter Top Displays
Acrylic Counter Top Displays
Wooden Counter Top Displays
#5 Fundraising365
In addition to our selection of Collection Boxes, Fundraising 365 offers thousands of products that are ideal for a wide range of promotions. Whether you need promotional items for fundraising events, shows, exhibitions, conferences, giveaways, corporate events, or new product launches, we are certain to have what you need.
Our wide selection includes inexpensive fundraising items like promotional keychains, mugs, pens, umbrellas, conference bags, and folders, as well as executive business gifts, corporate gifts, and a great selection of recycled promotional goods that are also environmentally friendly.
Our Products:
Cardboard Collection Boxes
Charity Labels
Collection Boxes
Collection Boxes and Buckets
Counter Collection Boxes
#6 Print & Display LTD (UK)
At Print & Display, we assist our clients in increasing product sales and revenue. Our collective goal as a team of POS experts is to assist both big and small firms in outperforming their rivals. We achieve this by developing useful POS items like FSDUs, Dump Bins, CTUs, and Pallet Wraps.
Please give us a call if you've had trouble finding a POS partner who shares your dedication to your business and its products. We'll never let you down.
Our Products:
Free Standing Display Units
Dump bins
Countertop units
Display Flash
Pallet Displays
#7 CAPS CASES
A prominent supplier of corrugated packaging in the UK is Caps Cases. Due to our business expertise in everything from package innovation to design, manufacturing, and delivery, we are able to provide solutions for our clients that are not only practical but also attractive.
Packaging Design, Industrial Packaging, Retail Ready Packaging, Shelf Ready Packaging, Promotional Packaging, PoS and PoP Displays, Cardboard Point of Sale Display, Consumer Packaging, Corrugated Pallets, and more are just a few of our areas of expertise.
We can supply businesses across the nation from our three production facilities in Newmarket, Suffolk, Hoddesdon, Hertfordshire, and Baillieston, Glasgow, Lanarkshire.
Our Products:
Cardboard Boxes
Wardrobe Removal Boxes
Die Cut Cardboard Boxes
Pallet Boxes
#8 Tradeprint
Your one-stop shop for all things printed, including bags, books, banners, stickers, and stationary.
We have been a dependable supplier to the trade for 25 years, which means we have spent that time honing our craft to a standard that will promote your brand or logo. We want to ensure that print is accessible and affordable for everyone because we are aware of how expensive starting a business can be.
We provide you with excellent quality at an affordable price, and not only is delivery free, but it also happens quickly—you can get your order in as little as two days.
Selecting the item you want printed and uploading your artwork are the only steps required.
Our Products:
Custom Printed Carboard Totem Displays
Eco-friendly Cardboard Display Stands
Cardboard Brochure Stands
Custom Printed Cardboard Cutouts
Rigid Display Stands
#9 Wabs Print & Packaging
Good things supposedly come in small packages. When it comes to bespoke packaging, Wabs Print & Packaging believes that wonderful things come in small cartons, giant printed shipping boxes, or everything in between. We provide you with the tools to create something exciting on the outside, enticing your customers about what is on the inside, using a variety of shapes, colors, materials, and sizes.
With its distinct vision and methodical approach to assisting small businesses in growing, Wabs Print & Packaging, a leading socially responsible online printing, marketing, and technology company, has established itself as a significant player in the sector.
Our Products:
Display Packaging
Cardboard Boxes
Cardboard Packaging Boxes
Corrugated Box
Folding Boxes
#10 CustomBoxesCo.co.uk
A well-known, cost-effective, and socially conscious online printing and design company is CustomBoxesCo.co.uk. With our distinctive vision and open-minded approach to supporting the expansion of SME firms, we have established ourselves as a prominent player in the printing sector. Every day, we respond to hundreds of online requests for custom business printing and graphic orders. We use high-quality screen printing, offset printing, and digital printing to produce dependable color printing at affordable printing prices. CustomBoxesCo.co.uk has gained customer trust by providing more customizable screen printing, offset printing, and digital printing options than other online and offline printing companies, all with our trademark user-friendly website interface.
Our Products:
CARDBOARD – POP UP DISPLAY BOXES
#11 Promocollection Europe
A premier worldwide sourcing platform, PromoCollection was established in 2011. Our mission is to efficiently link distributors of promotional products and manufacturers of personalized stuff from across the world.
Our service gives clients access to the world's millions of custom sourcing opportunities. We guarantee the confidentiality of any information or orders you disclose with us because we never work with end customers.
Our Products:
Cardboard Displays
Table displays
Floor displays
Conclusion
Contact Packwins Dislay to start a free display project reveiw and free sample.
https://thecorrpro.com/wp-content/uploads/2019/06/Point-Of-Purchase-Cardboard-Display-Stand-with-Rotary-Wheels-3.jpg
570
800
packwinsdisplay
https://thecorrpro.com/wp-content/uploads/2021/04/packwins-logo_.png
packwinsdisplay
2022-11-25 03:58:03
2022-11-25 06:36:16
Best 11 Point-of-Sale Packaging Corrugated Suppliers in UK